Georgina Oxley - Kingston City Council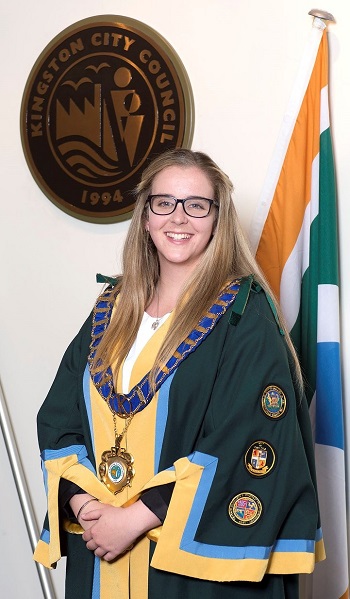 On Wednesday 14 November, I was sworn in as the Mayor at Kingston City Council.
At 23 years and four months of age, it's believed that I may be the youngest female Mayor in Australia's history, preceded by Clare O'Neil from the City of Dandenong. She was sworn in at 23 years and 6 months. I know that age is just a number, but I hope that my appointment into this position sends two strong messages to the community:
women can achieve leadership roles
there are many millennials who are committed to making a difference in their community.
I am sick of the throwaway comments that are made about 'lazy' Generation Y and Z. In the City of Kingston, there are two councillors in our early 20s, a dedicated youth council and many great youth-led organisations and events.
Whilst gender also shouldn't matter, I know that every time a female is voted into a position of power it makes a small difference to wider community attitudes.
There are many trailblazers who have come before me, however I hope that my appointment helps to motivate other women to take a chance and pursue their career interests.
This message is timely, as Kingston currently has nominations open for its inaugural Woman of the Year awards. These awards aim to celebrate women who achieve, inspire and support others through their professional or personal lives in our municipality.
It doesn't matter if their contribution to our community is big or small, or if they excel in the arts, sport, business or science, we want to celebrate their contribution to our community.
The City of Kingston will accept nominations for the Kingston Woman of the Year Awards until 15 December at kingston.vic.gov.au/kwa.
I am proud to be a part of a council which has taken a strong stance against family violence.
In October, Kingston councillors endorsed the city's first Prevention of Domestic and Family Violence Action Plan. I look forward to implementing this plan and making a difference in the lives of those who need our support.
This is just one of the many exciting challenges and projects I look forward to sinking my teeth into over the next 12 months.
Other projects on my radar include:
Planting more trees along our foreshore and nature strips
Working towards the completion of the Bay Trail shared use path along the Kingston foreshore
The commencement of works on the Chelsea Structure Plan, to rejuvenate local shopping strips
Exciting opportunities brought about in connection with the Level Crossing Removal works, and
Overseeing more female-friendly fit-outs in local sports clubs.
We will also be putting together our Neighbourhood Character and Housing Strategy and need to get the balance right between maintaining neighbourhood character and meeting the demands of a growing population. We also need to review parking, rate-capping and traffic.
I am committed to meeting with local clubs and organisations to find out more about them and what challenges they face. And I'm interested in getting to know all the staff who work for council.
Without council staff in every municipality, there would be chaos. We would not have maternal and child health services, libraries, aged care services, meals on wheels, rubbish collections, road and infrastructure maintenance, maintained parks and thousands of other small but important jobs would not happen.
I am proud to be a part of such an important organisation, which provides much-needed services, support and advocacy for our community members.
I look forward to a busy and productive year as Kingston's Mayor.