Mayoral blog
We regularly feature a blog by a different Mayor on how their council is making a positive difference for their community.
Whitehorse City Council Mayor, Cr Andrew Munroe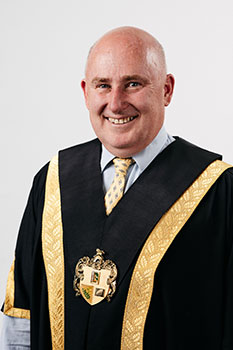 While Councils provide a wide range of services from waste collection to art programs, and road maintenance to playgrounds, a key focus for Whitehorse is advocacy at both state and federal levels.
We are committed to advocating for funding, local amenity and representing local interests with the other tiers of government.
Advocating ahead of elections
Councils are acutely aware that Federal elections are coming soon and Victorian elections are due in November 2022.
We talk with local MPs seeking re-election and new candidates running for election, to brief them on local priorities and opportunities to work with us if elected.
We have an eye to re-drawn electoral boundaries and how this may change who our local MPs are or the extent to which their electorates overlap with Whitehorse boundaries.
I travelled to the Australian Local Government Association conference earlier this year.
The event provided a unique opportunity for councils to engage directly with the federal government. It is our opportunity to tell our elected representatives what matters to our community and to influence policy and decision making.
Advocating for funding
We actively pursue grants or funding partnerships, especially in budget cycles.
Some big projects require funding from outside sources, such as the long overdue redevelopment of Box Hill City Oval.
It's a premier facility that's been home to several elite cricketers and footballers.
It draws big crowds, and many local parents have enjoyed watching their Auskickers play at half time during a VFL match.
Many locals tell us they value historic elements of the old pavilions and the historic hedge.
The reality is, this facility needs around $15 million investment to remain a significant local sports venue into the future.
The change rooms and toilet facilities are grossly inadequate for the growing numbers of women and girls who play sports at City Oval.
It is not accessible for wheelchair users and the broadcast facilities need to be brought up to contemporary standards.
City Oval is important for premier sport, community sport and local recreational users.
We're working with the clubs and community to put together a partnership deal with Cricket Australia, the AFL, the Victorian and Federal Governments as they start to put together their next budgets.
We also advocate for and secure many smaller grants. Every bit of funding from other sources helps us stretch rates revenue further.
Advocating for our community
We have been working with residents in Mont Albert and Surrey Hills to achieve the best outcomes for our communities as part of the level crossing removal project.
We are in regular contact with the level crossing removal team to pursue the best project outcomes for our community.
It's also been pleasing to see the way the community has come together to achieve a positive outcome with the revised project design.
We will continue to work with our community and LXRP to ensure the project meets the needs of our community.
As I approach the end of my mayoral term, I hope this strong approach to advocacy continues throughout the term of this council.
I look forward to continuing to work with my council colleagues to achieve the best outcomes for our community.
Mayor Andrew Munroe
Whitehorse City Council
Previous Mayoral blogs
An archive of previous Mayoral blogs is available at Previous Mayoral blogs.