Council responsibilities
All Victorian councils broadly have similar roles and responsibilities, and derive their power from the same legislation, however not all municipalities are the same.
In Victoria, local government is established by an Act of state parliament – the Local Government Act 1989 (PDF - 1.66MB) – which specifies council powers, duties and functions. The legal basis for councils is established under the Constitution Act 1975.
Councils have autonomy to provide services that meet the needs of their local community, and will establish a range of discretionary processes, including local laws, to guide certain activities that can occur within their municipality.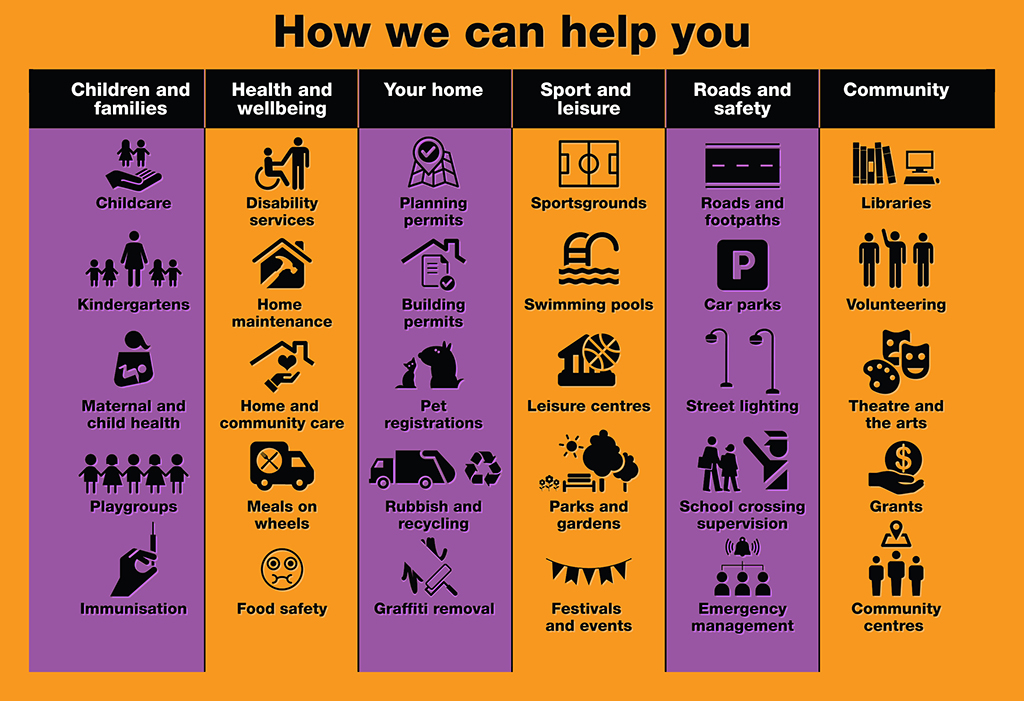 We thank the City of Greater Dandenong for permission to use this graphic explaining the role of local government.
Learn more about
How local government can help you
Children and families:

Child care
Kindergartens
Maternal and child health
Playgroups
Immunisation.

Health and wellbeing:

Disability services
Home maintenance
Home and community care
Meals on wheels
Food safety.

Your home:

Planning permits
Building permits
Pet registrations
Rubbish and recycling
Graffiti removal.

Sport and leisure:

Sportsgrounds
Swimming pools
Leisure centres
Parks and gardens
Festivals and events.

Roads and safety:

Roads and footpaths
Car parks
Street lighting
School crossing supervisions
Emergency management.

Community:

Libraries
Volunteering
Theatre and the arts
Grants
Community centres.