Solar powered benches provide free WiFi in Stonnington
The City of Stonnington has partnered with Eco Renewable Energy to install and maintain two solar powered smart benches for community use.
The benches provide charging points and free WiFi connection for mobile devices and are located in Prahran's Princes Gardens near the basketball courts and the playground at Horace Petty Estate.
During the 12-month trial not only will they provide free WiFi and charging capability, the benches will also collect and share real-time data about air quality, temperature, humidity and air pressure as part of our 'smart cities' initiatives.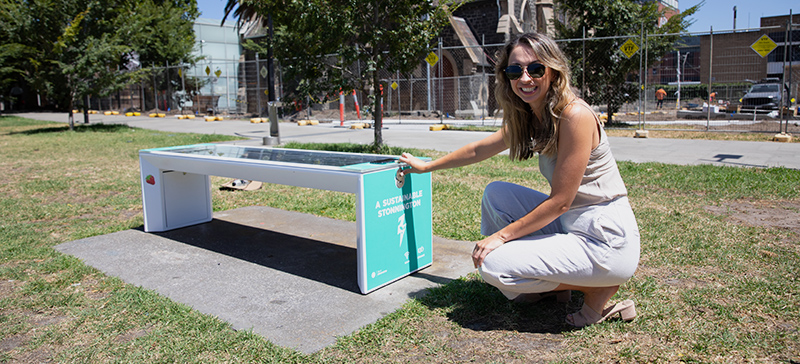 City of Stonnington Mayor, Cr Jami Klisaris (pictured), said the installation of the smart benches is an important step for Stonnington as it meets a need to ensure all community members had access to digital information when they needed it.
"We were made aware during COVID that some members of our community were unable to access up-to-date information due to limited, or no, internet access. With these new smart benches, everyone has access free of charge.
"Users of the benches can wirelessly charge their devices or plug a charging cable into the built in USB ports and free WiFi is available to everyone within 20 metres of each bench.
"Not only will the smart benches increase convenience and provide free internet access, being solar powered they also support Stonnington's commitment to finding new, environmentally friendly ways of providing services," said Cr Klisaris.
The benches will initially be in operation for one year as a trial and will provide valuable information that will feed into future smart cities actions.
For more information, visit connectstonnington.vic.gov.au/smartcities.